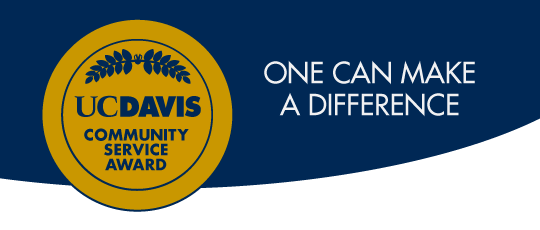 2018-2019 Community Service and
Civic Engagement Award
Nomination Form
The Community Service and Civic Engagement Awards are based on dedicated service to others as well as breadth, quality, and time committed to community service.
Who can be nominated?
UC Davis students (undergraduate, graduate, and professional), faculty, staff, and student organizations for community service completed between March 2018 and February 2019. Self-nominations are also welcome! If you have a large amount of nominations to make, please let us know and we can input their information for you so you do not have to complete a form for each nomination.
Then what?
Nominees will be notified via email and asked to complete an application in which they provide a detailed description of their service activities. Final award selections will be announced in Spring Quarter and Gold and Outstanding recipients will be honored at a reception in May 2019. Outstanding recipients will also be eligible to receive the UC Davis Civic Engagement Award (additional documentation will be required). Some nominees may also qualify to recieve the President's Volunteer Service Award.
For more information please contact:
Community Service Resource Center
106 South Hall
(530) 752-3813
communityservice@ucdavis.edu (Attn: Bianca Mogannam)
You may nominate more than one candidate, but please submit a separate form for each person or organization. Please submit all nominations by Friday, February 15th, 2019 at 11:59pm. Nominee's name and e-mail address must be included.
The period to nominate has expired, or the new period has not yet begun.